Ahola is Named a 2021 Top Workplace in Northeast Ohio by The Plain Dealer and Cleveland.com!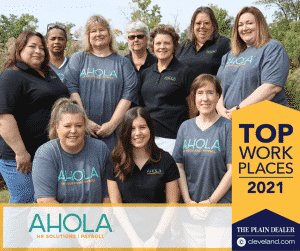 Ahola is proud to announce we've been named to the 2021 Top Workplaces list in Northeast Ohio! We're thrilled to have been included and thankful to our employees, who made this happen.
The Cleveland Plain Dealer has recognized 175 Companies and Organizations in Northeast Ohio as Top Workplaces for 2021, and we're #64 in the small business category! Top Workplaces rankings are based solely on employee feedback. There are no subjective elements to the process, making Top Workplaces the nation's most credible, authentic employer recognition program. Winning the Top Workplaces award is proof-positive your organization really does put its people first.
"We are very privileged and honored to be named one of the Top Workplaces in Northeastern Ohio, this validates that our culture of "employees first" is having a positive impact on our employees as well as a clear sign that our employees are enthusiastic about the company's direction," said Ahola Corp. President, Mark Strippy.
"Winning the Top Workplaces award is validation that our team at Ahola is doing the right things," said CFO, Michael Paull. "We shined through the pandemic and received high marks from our clients. Our thought leadership was deeply valued by our community and served to strengthen our partnerships. These outcomes are possible only when our team members are feeling respected and empowered. We have employees that have been with us for over 20 years as well as many new hires. The workforce is diverse in terms of backgrounds and skillsets. This helps solidify our culture and get the best solutions for our clients. Every company has ups and downs but the overall trajectory needs to be up and the team needs to buy in to the vision. I think we are doing the right things at Ahola for our employees."
After 54 years, Ahola has a rich tradition in the market with both clients and employees. We are honored to return to the list of Top Workplaces and hope to continue to improve and grow as a company and a member of the community. This award does not mark the end of a measurement period but rather is an affirmation that we are on the right path in an ongoing quest to be an employer of choice in our market!
Ahola is growing and hiring! Learn more about open positions and join our team!